Up here north of the border we celebrate Thanksgiving a little earlier than in the US – on the second Monday in October. It lets us enjoy the vestiges of warmth before we plunge into winter. And here in Ontario at least, November is typically pretty rotten. Of course, there is the added benefit to those south of the border that recipes we try out can be posted for you to use for your thanksgiving feasts!
This year we had to feed seventeen people for thanksgiving this year, so of course we prepared enough food for 30. The centrepiece was a 10.3 kg (22.7lb) turkey that I was dying to cook on the Kamado grill, along with acorn squash, sweet potatoes, stuffing, and a bunch of things cooked inside as well (which doesn't involve actual fire, so I won't go into details here).
The turkey:
1 10 kg (22lb) dinosaur descendent. Air chilled fresh is better than frozen, and free-range is best of all, but usually double the price.
Beer brine – I loosely followed this recipe from Traeger Grills, but used only 1 500mL can of Pilsner Urquell, which I quite like using for cooking.
injection – 4 oz garlic infused olive oil + 1/2 can Pilsner Urquell, and a dash of creole seasoning.
3 navel oranges, quartered
fresh rosemary and thyme
I don't have a fridge big enough to store a brining bird for a day or two, so I got up early and brined the bird for about 5 or 6 hours in a cooler, with plenty of ice to keep the temperature down. I tilted the cooler so I didn't have to fill it all the way, and kept the bird breast-side down in the brine, while the back was not submerged. I could have made more brine, but why bother? It's the breast that really needs brining.
After brining I injected the breast, legs and thighs with the beer and garlic oil mixture, stuffed the oranges into the cavity, and slid sprigs of rosemary and thyme under the skin of the breast as well as into the cavity. Lastly I rubbed a little more garlic-infused olive oil all over the skin of the bird, thus ensuring it was completely impossible to handle.
I set up the Kamado with lots of charcoal (I like to use Canadian maple, beech and birch which gives a nice combination of heat and aromatic smoke), and two good chunks of apple wood. I set the heat deflector to the lower position, and slid in a drip pan. I placed an old cooling rack between the deflector and the pan so the drippings would not burn and produce acrid smoke that would affect the flavour – this is a little thing that can make a big difference.
I roasted the bird at about 350F. I say "about", because while the Kamado is great at low and slow, or seering heat, but I find sometimes prolonged cooking at medium high temps can be finicky, so I had to make sure to keep an eye on it.
Now here's the shocker – it cooked completely in three hours.
Yes, 22 pounds of turkey at 350F cooked in three hours, or a little over 8 minutes per pound, and the temperature rose very quickly over the last 15 minutes or so, so I had to be on my toes to pull it out at the right time. In fact, I was a little slow and the extra two minutes it took me to get my stuff together allowed to to overshoot slightly, mostly because I couldn't believe it was ready so soon. It is important to have a good digital thermometer for this!
Despite the food safety guidelines, I would recommend pulling the bird out before the middle of the breast hits 155F, and I have heard as low as 151F. I tried for 155, but it crept up to 158 by the time I got it out. I tented with foil and drapes a tea towel over it and let it rest for a little over an hour (because I had to cook the veggies on the grill afterward), and during the rest the breast temp crept up to almost 170. So yes, definitely take it out before it hits 155 on a bird this size.
Here is what it looked like just before I pulled it off the grill: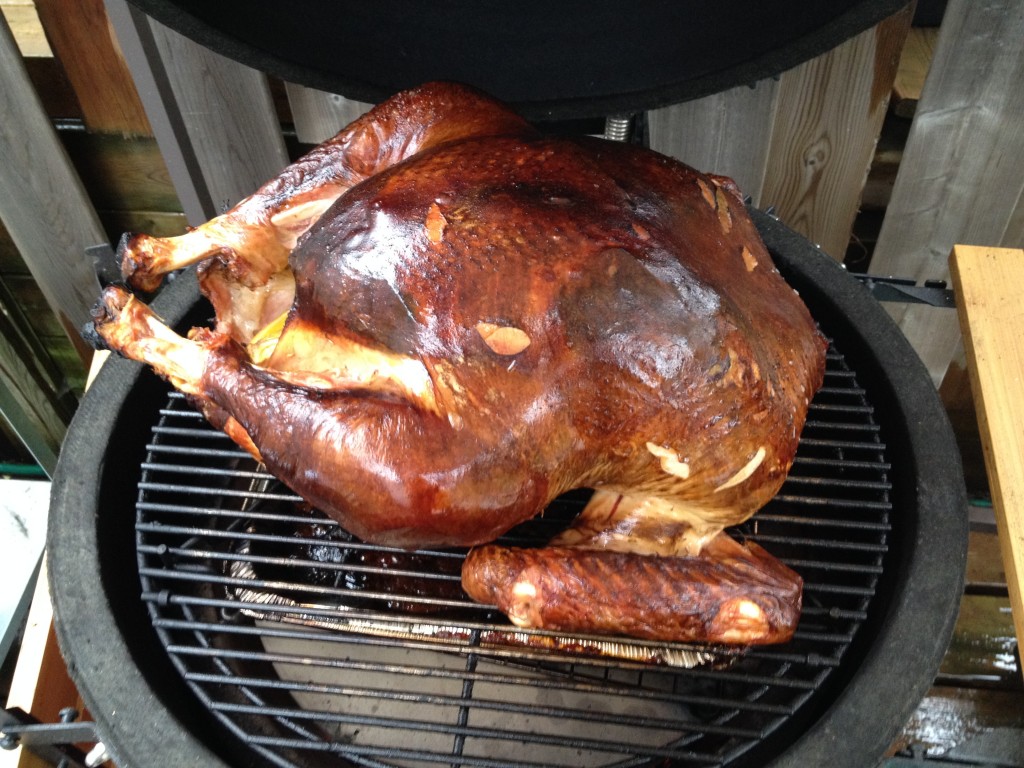 But wait, there's more!
While the turkey was resting, I tossed in some more charcoal and laid out the acorn squash (quartered, basted with a little oil and brown sugar) and sweet potatoes on the grill to roast for an hour. Next time I will perhaps start the sweet potatoes in the oven ahead of time, as they take a little longer to cook through. Doing them over charcoal gives them a little extra flavour to make them that much more special. If you have an upper rack ("grill extender") you can also do a pan of stuffing, to add a little smoke flavour.
This whole meal came out very well, and I was extremely pleased (as were my well-fed guests). I'm not sure why the bird cooks so fast – but the fact that there is not a whole lot of space around the bird with the lid closed is part of it I'm sure. Next time I will be a little quicker yanking it off the heat, but otherwise I would do it again the same.